Maintaining control over the devices we use is essential in this fast-paced digital world. That's where Wondershare Dr.Fone comes in. Wondershare Dr.Fone is the all-in-one solution for controlling your smartphone experience. Dr.Fone provides seamless device management whether you're on the go or at your desk. Trust me when I say that with its diverse set of functions, controlling your smartphone has never been this easier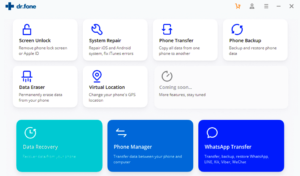 Let's take a deeper look at its amazing features to explore more.
Fone Basic: Your Smartphone Swiss Army Knife
Dr.Fone Basic is the initial step toward smartphone dominance. Transfer, manage, back up, restore, and even mirror your smartphone screen to your PC with ease. Dr.Fone Basic is your go-to app for getting things done wherever you are.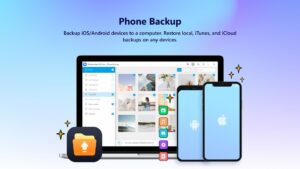 Screen Unlock: Say Goodbye to Lock Screen Issues
Screen Unlock comes in handy when you're locked out of your Android or iOS smartphone, whether you know the password or not. It easily disables different kinds of lock screens, restoring control of your smartphone.
Data Recovery: The Saviour of Your Lost Data
Data loss can be upsetting, but not with Dr.Fone's Data Recovery. Data can be recovered easily from deleted or lost iOS/Android devices, iTunes/iCloud backups, and even damaged Samsung phones and tablets.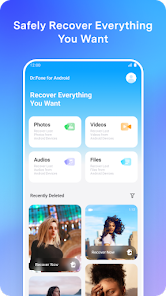 WhatsApp Transfer: Keep Your Conversations Safe and Sound
With the WhatsApp Transfer feature, you can save your important discussions. Back up your conversation history and attachments on WhatsApp, WeChat, LINE, Kik, and Viber. You can also effortlessly transfer WhatsApp messages between iOS and iOS, Android and Android, and even iOS and Android.
Phone Transfer: Quick Data Transfers Right at Your Fingertips
Phone Transfer allows you to transfer data between any two iOS or Android smartphones with a single click. Moving data like contacts, messages, and photographs has never been simpler.
Data Eraser: Ensure Your Privacy with Assurance
Are you concerned about your data slipping into the wrong hands? Dr.Fone's Data Eraser allows you to permanently delete data from your iOS or Android smartphone, guaranteeing your privacy is protected. You have total control over the entire device or particular data.
Key Manager: Your Secure Vault
Are you tired of forgetting passwords? Dr.Fone's Password Manager is here to help. All of your passwords, including iOS passwords, stored Wi-Fi passwords, email passwords, and those for other applications and websites, can be easily found and managed.
iTunes Repair: Bye to iTunes Problems
You shouldn't worry if you've ever had problems with your iOS devices synchronizing or with iTunes errors. Dr.Fone's iTunes Repair can repair over 200 iTunes errors and connectivity problems without causing data loss, allowing you to continue using your device.
Your Smartphone's Doctor for System Repair
Dr.Fone's System Repair comes to the rescue when your iOS or Android device encounters difficult issues such as the white Apple logo, the black screen of death, the boot loop, or the dreaded 1110 error. it can get your gadget up and running again quickly.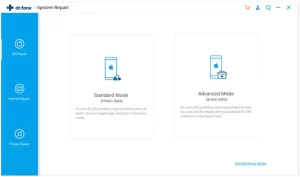 Final verdict:
If you've ever had trouble managing your smartphone, Wondershare Dr.Fone is definitely for you. It's like having a personal savior for your smartphone, making things easier. It has everything you need, from data backup to troubleshooting. Dr.Fone is the app you can rely on to recover your lost files and keep your phone working properly. This software, believe me, is a game changer in the realm of digital device management. Give it a go, and you'll wonder how you ever survived without it!
Download the application now: https://drfone.wondershare.com/