Are you exhausted of spending hours cleaning your house every week? If so, you might want to check out the Lefant M1 Robot Vacuum and Mop. With its advanced features and efficient cleaning capabilities, this robot cleaner can help make cleaning a breeze. Whether you have hardwood floors, pets that shed a lot, or just want a cleaner home with minimal effort, the Lefant M1 might be just what you need. In this review, we'll take a closer look at its key features and benefits, so you can decide if it's the right choice for your home.
The design: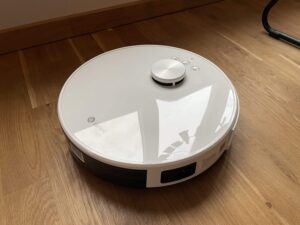 One thing that sets the Lefant M1 apart from other robot vacuums is its compact design. Although it may not look particularly small at first glance, it's slightly smaller than most of its rivals, with a diameter of just 320mm and a height of 92mm (including the lidar turret). This allows it to fit into tighter spaces, making it easier to clean those hard-to-reach areas. Despite its smaller size, the collection bin still has a decent volume of 520ml, which is sufficient for cleaning larger areas without having to stop and empty it frequently. However, since it doesn't have self-emptying capabilities, the collection bin will need to be cleaned out manually.
Standout features:
The Lefant M1 robot vacuum and mop has several standout features that make it an impressive device for cleaning your home.
Advanced Navigation System for Precise Cleaning: One of the standout features of the Lefant M1 is its real-time mapping and LDS navigation. This featureallows it to scan a
nd create a map of your room. With its accurate AI algorithm, it can plan and execute a thorough cleaning of your entire home. You can even track its progress in real-time using the app, giving you peace of mind that your floors are getting the attention they deserve. And thanks to its precise positioning capabilities, you can trust that the Lefant M1 will clean every nook and cranny of your space, leaving your floors looking spotless.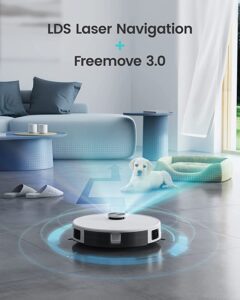 Customizable Cleaning Experience: You can also use the app to set up no-go zones and spot cleaning, so you can target specific areas that need extra attention. This is especially helpful if you have a pet that sheds a lot, as you can use the spot-cleaning feature to target those areas.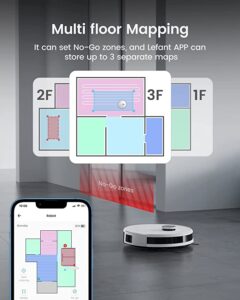 Long Running Time and Self-Charging: One thing that sets the Lefant M1 apart is its long running time and self-charging capabilities. When fully charged, the Lefant M1 robot vacuum and mop is capable of covering a maximum cleaning area of up to 200 square meters or running for up to 150 minutes of continuous cleaning. This means you won't have to worry about the robot running out of battery in the middle of cleaning, and it will also automatically return to its dock when it needs to recharge.
Convenient App and Voice Control: Speaking of the app, it's easy to use and allows you to control the Lefant M1 with your voice if you have Alexa. This means you can start and stop cleaning sessions, adjust settings, and even get status updates on your cleaning progress, all with simple voice commands. With the Lefant app, you can easily monitor the cleaning path, schedule cleaning plans, adjust the suction level, and switch between four cleaning modes to customize the cleaning experience. With these intuitive control options, keeping your floors clean has never been easier!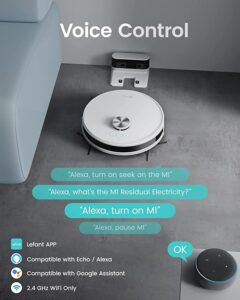 2-in-1 Vacuuming and Mopping: The Lefant M1 robot vacuum and mop is designed to be a true multitasker. With its 160ml water tank and 520ml dustbin, you can clean your floors with both vacuuming and mopping at the same time. And with three different levels of water adjustment, you can customize the amount of water used to suit your specific cleaning needs.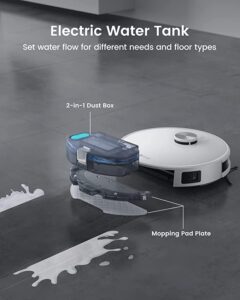 Innovative Brush Design: It features a double-sided brush that helps to collect dirt more easily, making it even more effective at cleaning. This device is specifically engineered to gather dirt and debris in front of the vacuum body and sweep it directly into the dust box. Additionally, the suction opening is covered by a floating roller brush made of silicone that provides a snug fit and won't damage your floors.
Quiet and Compact: The Lefant M1 robot vacuum and mop stands out from the crowd thanks to its brushless motor, which is not only more durable than traditional brush motors, but also produces a softer, less harsh sound. This means that you can enjoy a quieter, more peaceful cleaning experience without sacrificing any cleaning power.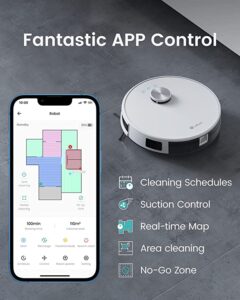 Final verdict:
Overall, the Lefant M1 robot vacuum and mop is a highly effective and efficient cleaning solution that offers a wide range of innovative features. Thanks to its compact, lightweight design, it's a breeze to operate and store, making it an ideal choice for smart homes. From its powerful brushless motor and dual-sided brush design to its real-time mapping and voice control capabilities, this device delivers exceptional performance that can rival even the most expensive robot vacuums on the market. If you're looking for a reliable, efficient, and affordable robot vacuum and mop that can handle all of your cleaning needs, the Lefant M1 is definitely worth considering.