Imagine being able to slip on a comfortable sleep mask and within minutes, feel yourself drifting off into a deep, restful sleep. No more tossing and turning, no more racing thoughts keeping you up at night – just pure, blissful slumber. That's the promise of the SweetNight Eye Tech Mask, a high-tech sleep aid that's been making waves in the world of sleep products.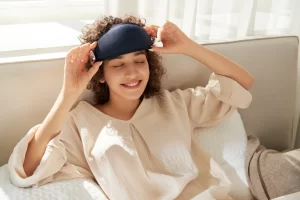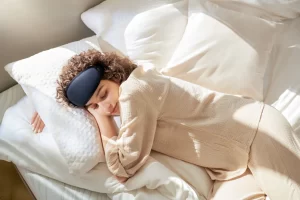 With advanced graphene heating technology and adjustable vibration settings, this mask is designed to reduce eye strain, promote relaxation, and ultimately help you get the best sleep of your life. Whether you're someone who struggles with insomnia or simply wants to improve your sleep quality, the SweetNight Eye Tech Mask is a must-try product that's sure to change the way you approach bedtime.
Unboxing the SweetNight Eye Tech Mask
Opening up the box of the SweetNight Eye Tech Mask is a treat in itself. The box is classy and elegant, and all of the mask's accessories are neatly organized inside. Here's everything you'll find when you unbox your own Eye Tech Mask: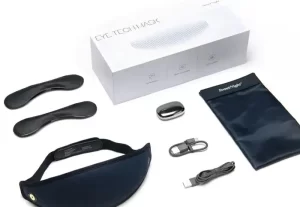 Eye Tech Mask
Eye Mask Carry Pouch
External Battery
USB Type-C Cable
USB Power Cable
2 Cold Compress Gel Inlay Pocket
In this article, we'll take a closer look at what makes this mask so unique, and why it's quickly becoming a favorite among sleep-deprived individuals everywhere.
Light Weighing and Perfect Fit for All:
The SweetNight Eye Tech Mask is a game-changer in the world of sleep products, thanks to its innovative use of flexible fabric and foam that perfectly adjusts to the contours of your face, ensuring a comfortable and lightweight fit. Trust us when we say, whether you're a side sleeper, back sleeper, or something in between, the Eye Tech Mask is sure to provide the perfect fit, helping you to fall asleep quicker and let you stay asleep longer.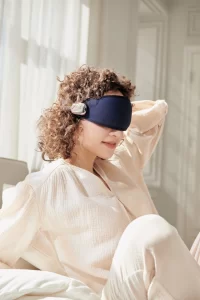 Built-in Warm Compress:
This SweetNight Eye Tech sleep mask comes equipped with a built-in heating element that can be easily switched on to generate a safe and soothing 113℉ temperature around the eyes. The warm compress helps to improve eye circulation and reduce eye strain, making it the perfect addition to your nighttime routine.
Soothing Eye Massage:
SweetNight Eye Tech Mask comes with a built-in massage motor. With its gentle 7,000 vibrations per minute, this innovative sleep mask provides a consistent and soothing experience for the wearer's eye region. The massage function helps to reduce tension and improve blood flow, promoting relaxation and reducing eye fatigue. Whether you're winding down before bed or simply need a quick pick-me-up during the day, the Eye Tech Mask's eye massage feature is the perfect way to unwind and de-stress.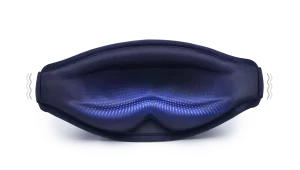 Ice Compress Feature:
Luckily, the SweetNight Eye Tech Mask also has an ice compress feature. The mask comes with an added cold compress inlay gel pocket that, when used together with the mask, helps to soothe tired eyes and reduce inflammation. Simply place the gel pocket in the fridge for a few minutes before use, then slip it into the mask's specially designed pocket for a refreshing and revitalizing experience.
Portable and Convenient Battery
When it comes to sleep aids, portability is key. That's why the SweetNight Eye Tech Mask comes equipped with a detachable battery that can be conveniently charged with a Type C & USB 2.0 Cable. And for even more convenience, we also offer a magnetic power cable that allows you to connect the mask to a USB power source for prolonged usage.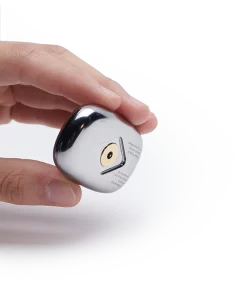 Perfect Travel Companion
With its compact and lightweight design, the Eye Tech Mask is the perfect travel companion for anyone who wants to enjoy a restful sleep on the go. Whether you're traveling for work or pleasure, you can take the Eye Tech Mask with you wherever you go, ensuring a comfortable and restful sleep no matter where you are.
Final Verdict:
Overall, the SweetNight Eye Tech Mask is an excellent sleep aid that delivers on its promises. Its lightweight and comfortable design, combined with its heating, massage, and ice compress features, make it a versatile and effective tool for promoting restful sleep and relieving eye fatigue and irritation. The mask's detachable battery and convenient charging options also make it a great option for travel and on-the-go use.
Whether you spend long hours in front of a computer screen or simply want to wake up to refreshed, revitalized eyes, the Eye Tech Mask is the answer you've been looking for. So why settle for restless nights and tired eyes when you can enjoy a truly restful sleep and wake up feeling refreshed and rejuvenated with the SweetNight Eye Tech Mask?
Are you curious to learn more about the SweetNight Eye Tech Mask and experience its amazing features for yourself? Click on the link below to find out more about this innovative sleep aid.
And the best news? You can now enjoy a 15% discount on your purchase by using the code WOW15% at checkout. Don't miss out on this incredible opportunity to upgrade your sleep game.