Life is hectic, and in the midst of our busy schedules, we all deserve a hair dryer that not only redefines our blowouts but also saves us precious time. Imagine a dryer that effortlessly dries your hair in record time, all while providing exceptional care and protection. Look no further, because the CoShare SuperFlow1 Hair Dryer is here to revolutionize your styling routine. Well, get ready to be blown away by this incredible dryer!
Amazon link: CoShare SuperFlow1 Hair Dryer
https://coshareglobal.com/
Product Name: CoShare SuperFlow1 Hair Dryer High Speed 500million Negative ions Blow Dryer
 Reg.Price : 129.99
 Final Price : 71.49
Discount: 45% OFF ( 22%CODE+30 COUPON )
Code : SuperFlow
Start time: 2023-6-1 11:00PDT
 Expiration Date : 2023-8-31 23:59 PDT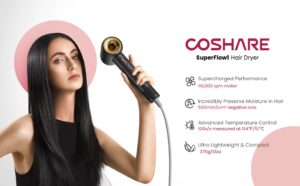 Forget about battling with stubborn strands, unruly locks and hello to effortless and salon-worthy hair in no time. Join us as we dive into the features that make this hair dryer a true game-changer.
Sleek and Ergonomic Design – A Treat for the Senses!
The CoShare SuperFlow1 Hair Dryer not only performs like a dream but also looks and feels amazing. It is a compact and lightweight hair dryer, weighing only 370g, making it perfect for travel. Its sleek and ergonomic design provides a comfortable grip, allowing you to effortlessly maneuver the dryer while achieving your desired hairstyle.
Lightning-Fast Drying – Efficiency at Its Finest!
Prepare to be swept off your feet by the CoShare SuperFlow1 Hair Dryer's revolutionary SuperFlow1 technology. At the heart of this hair dryer lies an incredible 11,000 RPM intelligent high-speed motor. This remarkable feat of engineering allows for fast drying while maintaining a gentle touch on your hair. But it doesn't stop there. The smart temperature control system ensures that your hair is never exposed to damaging heat, providing you with peace of mind and healthier-looking locks.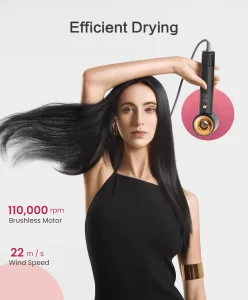 The Magic of Negative Ions – Say Goodbye to Frizz!
Static electricity and frizzy hair are the arch-nemeses of anyone seeking a sleek and polished look. By producing soft, natural heat and emitting 500 million negative ions, this dryer effectively neutralizes static electricity and maintains the optimal moisture balance of your hair. The result? Silky smooth strands that radiate with natural beauty.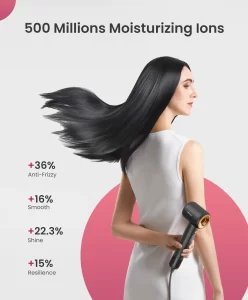 Multiple temperature and airflow levels – Tailored to Your Needs!
No two heads of hair are the same, and the CoShare SuperFlow1 Hair Dryer understands that. With its multiple temperature and 3 airflow levels, you can customize the drying experience to suit your hair type and styling preferences.
Safety First, Always – Peaceful Styling Sessions!
CoShare understands the importance of safety when it comes to hair care appliances. That's why SuperFlow1 hair dryer is equipped with an overheat protection system and a leak-proof design. Trust us when we say, this dryer will provide a secure and worry-free experience, ensuring the well-being of both you and your hair. Additionally, it is a low noise hair dryer that adds to the overall comfort, allowing you to enjoy a peaceful drying session.
A Fragrant Journey – The Revitalizing ShineRing!
Imagine stepping out of the shower and being greeted by a delightful fragrance while drying your hair. SuperFlow1 hair dryer is equipped with a replaceable Hair Nourishing ShineRing that infuses plant extracts and essential oils into the drying process. But the ShineRing doesn't stop there; it goes above and beyond. It hydrates your hair, improves its overall condition, and bids farewell to pesky frizz. And when it's time for a refill, replacing the ShineRing is as easy as pie.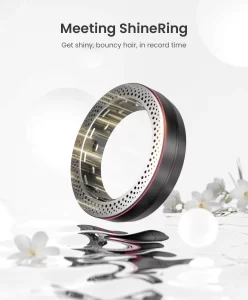 The Ultimate Hair Care Gift – Style and Innovation Combined!
Looking for the perfect gift for hair enthusiasts? Professional CoShare SuperFlow1 Hair Dryer is the answer. Combining style, innovation, and exceptional hair care, this dryer is sure to impress. Whether it's for a friend, family member, or loved one, they'll appreciate the advanced features and sleek design. Give the gift of effortless styling and transform their hair care routine with this ultimate hair care gift.
Final verdict:
In the world of hair dryers, the CoShare SuperFlow1 Hair Dryer stands out as a true gem. With its SuperFlow1 technology, sleek design, customizable settings, frizz-fighting abilities, and quiet operation, it is a force to be reckoned with. Bid farewell to bad hair days and embrace the ease and efficiency that this hair dryer brings to your styling routine. So, why wait? Give your hair the love it deserves and invest in the CoShare SuperFlow1 Hair Dryer today! Trust me, your locks will thank you.
Amazon link: CoShare SuperFlow1 Hair Dryer
https://coshareglobal.com/
Product Name: CoShare SuperFlow1 Hair Dryer High Speed 500million Negative ions Blow Dryer
 Reg.Price : 129.99
 Final Price : 71.49
Discount: 45% OFF ( 22%CODE+30 COUPON )
Code : SuperFlow
Start time: 2023-6-1 11:00PDT
 Expiration Date : 2023-8-31 23:59 PDT