Are You Facing a Sleeping Disorder ?
Are you facing a sleeping disorder, chronic obstructive pulmonary disease (COPD), or related health issues that don't let you breathe freely while asleep? The Wellue 02 oxygen monitor ring is the answer to your restless nights. This wearable oxygen monitor offers a few but undeniable benefits to the customers. I gathered them all to acknowledge you with those perks. Click here to check more details.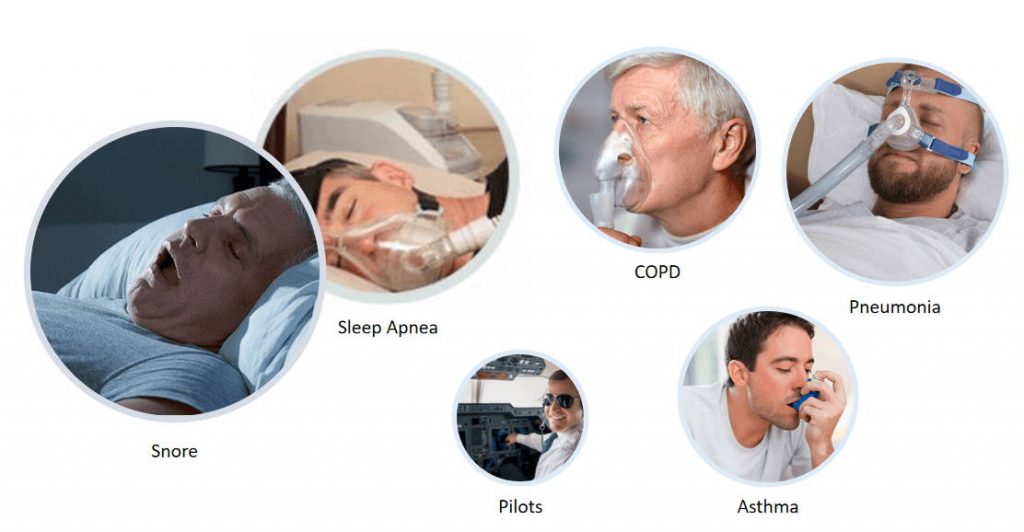 Wellue O2 ring oxygen monitor examines blood oxygen levels in real-time to detect sleep apneas and will gently wake you up if a predefined threshold exceeds.
Now you don't need to concern about loud alarms and beeps, its vibration supported that will only vibrate when detecting a low oxygen level or irregular heart rate without disturbing your pleasant dreams.
The design of the oxygen monitor is compact enough, sleek, and ring-shaped which allows it to be worn effortlessly while sleeping without causing discomfort. it has an expandable band that fits almost everybody.
The Wellue O2 ring oxygen monitor is exceptionally low weight, weighing only about 15g, making it nonslip and stable for the entire night. Unlike other oximeters, it did not cut off circulation, causing the finger to be numb.
The O2 ring is rechargeable by a micro USB charging connector located on one side of the ring. It has a built-in battery with a long life of roughly 12-15 hours. This means the battery lasts for a full night without any disturbance.
This wearable sleep monitor facilitates you with a free phone app, both on iOS and android, to give a quick excess of detailed reports wherever and whenever needed. You will get a high-resolution trend chart in a 4-second interval that shows your heart rate, oxygen level, and movement trends.
You can smoothly zoom in on the trend chart to discover how many times your oxygen level fell below a given threshold overnight. You will have easy access to the actual dropping rate.
If you, like me, prefer user-friendly equipment, this oxygen monitor is a must-have. Because it is a one-tap operation, you only need to touch the circle key once to switch between the readings of your oxygen level, heart rate, pulse strength graph, and time.
With a single click, you may export full results in PNG (image) or CSV format, which you can quickly share with your doctor for further medical examination.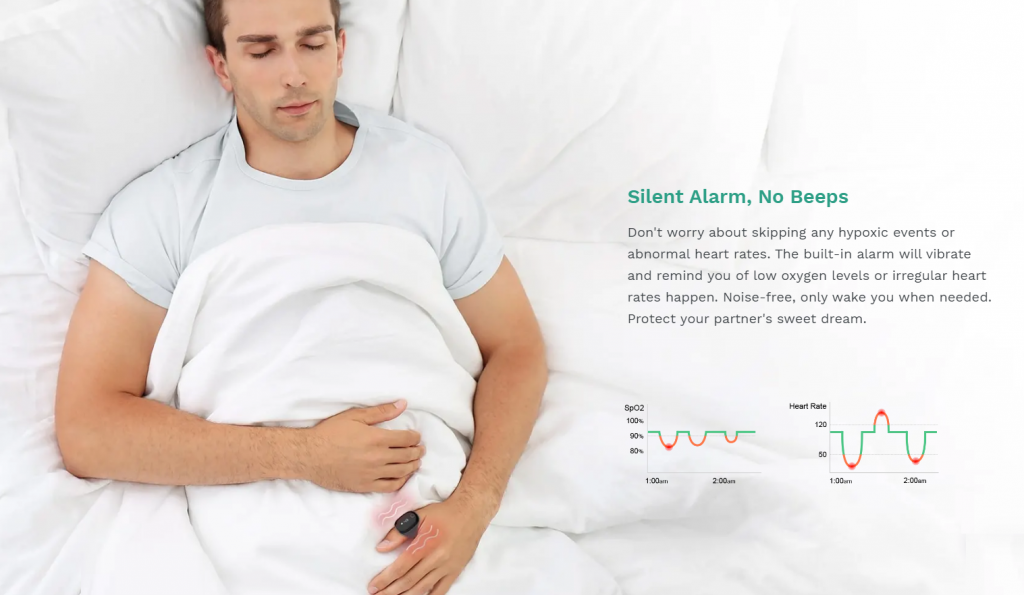 Specifications
OXYGEN LEVEL RANGE
70%-99%
VIBRATION SOURCE
Low oxygen levels, high/low pulse rate
WEIGHT
0.53 oz / 15g
PULSE RATE RANGE
30 to 250 bpm
DEGREE OF DUST & WATER RESISTANCE
IP24
DEVICE DIMENSIONS
1.5" x 1.2" x 1.5"
MEASURE INTERVAL
1S
RECORDED PARAMETERS
Oxygen levels, pulse rate, motion
RING PERIMETER
2.0" – 3.2"/ 50-82mm
DISPLAY INTERVAL IN APP DATA CHART
4S
COMPATIBLE COMPUTER SYSTEM
Windows 7/8/10;
macOS 10.15.3 or above
WIRELESS
Bluetooth 4.0 BLE
BUILT-IN MEMORY
4 sessions, up to 10 hours for each session
COMPATIBLE WITH
iOS 9.0 or above, iPhone 4s/iPad 3 or above; Android 5.0 or above, with Bluetooth 4.0 BLE
MODEL
O2Ring
BATTERY LIFE
Rechargeable lithium-polymer, 3.7 Vdc; 12-16 hours for typical use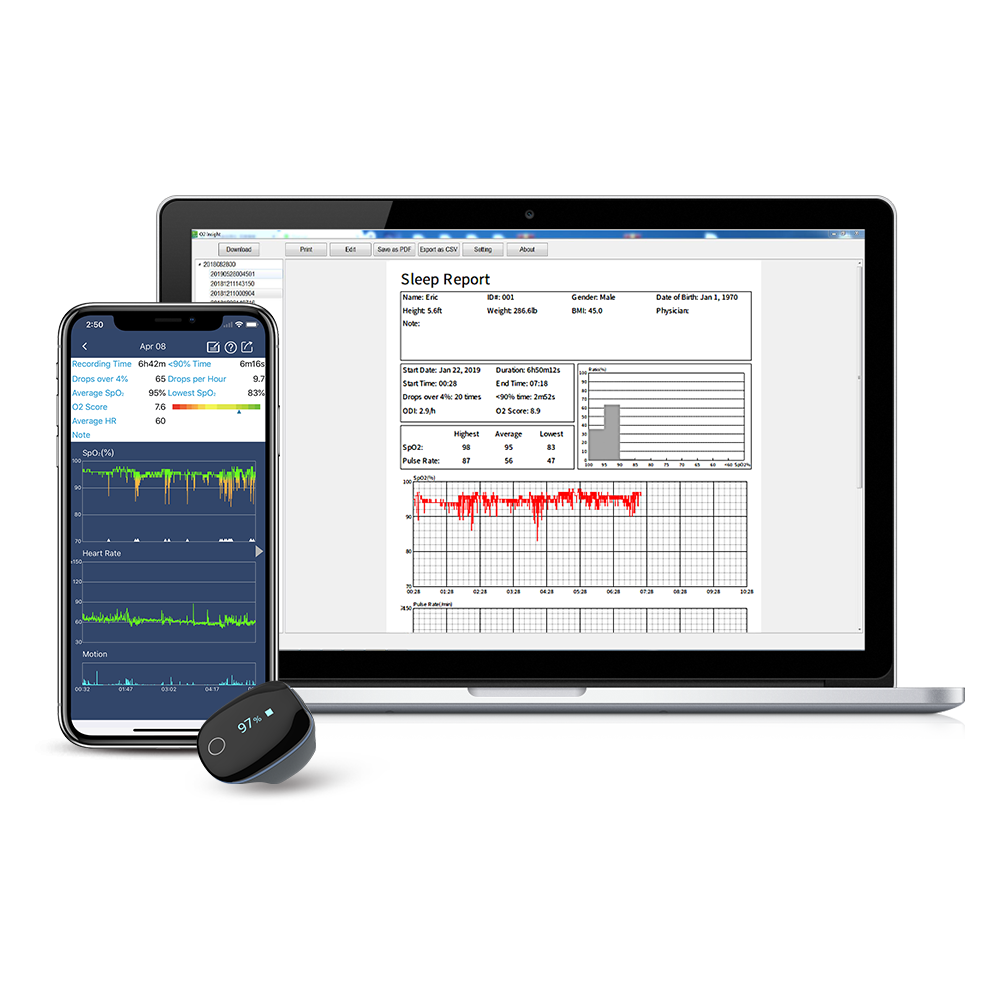 Although it is a little pricey and a big investment you will never regret buying it because it allows you to get a good night sleep while evaluating the efficacy of your current sleep regimen.