Are you ready to live in a smarter household? Do you also need a camera that can monitor your home when you are not there? Visualize that your camera can know your face and greet you when you arrive home, or that it can detect unknowns and give you notifications to warn you. Will you install such a home security camera? The device I'm reviewing today, Aqara 2K Security Indoor Camera Hub G3, might be the finest so far, demonstrating that when it comes to decent quality production, Aqara can't be matched. Aqara's new camera hub G3 combines adaptability and security features. Furthermore, it is packed with additional capabilities that make it an ideal security device for adding and controlling the Aqara Smart Home System.
Aqara May Special Offer this week (up to 25% OFF)
US:https://cli.fm/VprRRq
UK:https://cli.fm/mADpPM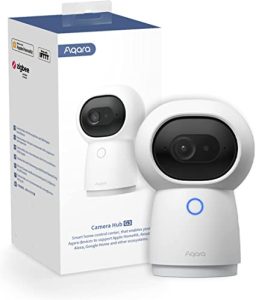 The Aqara Camera Hub G3 is more than just a security camera. It is a smart home hub and a smart security camera in one. It also serves as a ZigBee hub, allowing you to connect up to 128 Aqara home automation devices. Let's take a closer look at the features that set this camera apart from others.
FEATURES:
The packaging for the G3 camera is strong enough, and it shows off many of the camera's primary functions, but in Chinese.
The Camera Hub G3 features a high-resolution 2304 x 1296-pixel sensor, which produces higher-quality images with extra details.
The 110° wide-angle lens, coupled with the Pan and Tilt motors, allows for up to 360° rotation angle, intelligent navigation, and even face and pet tracking. Forget about spots hidden with this camera
Because of its powerful NPU-equipped CPU, the Camera Hub G3 is capable of identifying faces and gestures such as the v sign, high five, finger gun, four, and ok, which can be used in any sort of warning and home automation.
The G3 has an infrared (IR) controller that can smarten up your current infrared-compatible gadgets and facilitate local automation. Even if the device is not in the G3 infrared code database, the current remote can be used to program it. Also, it will execute even if no internet connection is available.
Additionally, there's no need to worry about network compatibility. this Camera Hub G3 supports 2.4/5 GHz Wi-Fi, one of the most common Wi-Fi frequencies, and utilizes them to connect your Aqara devices to the network.
The Aqara camera hub G3 works with a variety of home ecosystems and easily interacts with the voice platforms like Siri, Alexa, and Google Assistant.
At the moment, privacy is paramount. But there is no reason to be concerned about your privacy with this camera. The G3 Camera Hub has been approved by Apple, Google, and Amazon to fulfill all of the privacy criteria of your preferred system. It also has a hardware privacy protection mode, through which the privacy shutter can be dropped manually or automatically. you can effortlessly activate this mode with an adorable sleepy face.
Also, If the camera identifies any of the registered faces, it can instantly cease filming. To further safeguard your data, the camera's data streams are encrypted, and the newest Wi-Fi security standard WPA3 is enabled.
The G3 camera hub also has a Type-C connection with video out, the most universal connector, which enables high-definition video output through the UVC protocol with no delays.
The G3 Camera Hub doesn't have an irritating glare that might disrupt your sleep at night due to 940 nm infrared night vision LEDs.
The 1/4″ threaded screw on the Aqara G3 allows it to be mounted practically anywhere.
Long pressing the camera button will also send a video message alert that can be used in an emergency that is a big plus point.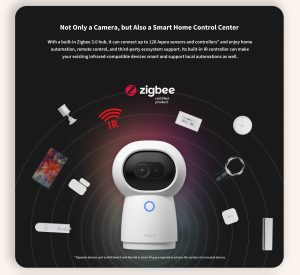 To sum up, with each new Aqara release, expectations rise, and the G3 has not disappointed. The G3 with a vast array of capabilities, so it's difficult for us to cover all of the camera's features within the Aqara Home app, but we believe we've covered the essentials, leaving you, the reader, to enjoy the hunt for the rest. To us, The Aqara Camera Hub G3 is an excellent smart security camera that can operate Aqara devices with voice commands via an easy-to-use smartphone app. If you're developing a smart home with Apple's HomeKit framework, this is a useful item to have. There is no charge for keeping your recordings in the cloud, and you receive a lot of useful and effective security measures at a reasonable price. Trust me, controlling your smart home has never been easier and more enjoyable!
Aqara May Special Offer this week (up to 25% OFF)
US:https://cli.fm/VprRRq
UK:https://cli.fm/mADpPM