The SwitchBot Meter Plus is a practical and innovative gadget for monitoring the temperature, humidity, and air quality in your home or business. This little gadget is simple to set up and can be put anywhere in the room to give you real-time environmental information.
It's a basic gadget with a simple purpose, so it's more like a sensor that you can utilize inside the ecosystem to improve the performance of other devices. The SwitchBot Meter plus certainly works well as a solo gadget, so let's take a closer look at it.
10% coupon code: 10VIDEOGIZE, active from 24th February to 24th March.
What's in the box of SwitchBot Meter Plus?
The SwitchBot Meter Plus comes with a few items in the box, including:
Thermometer and Hygrometer SwitchBot Plus
Two AAA batteries
3M metal plate with an adhesive backing as an add-on
User guide including setup and use instructions for the device
Design:
The SwitchBot Meter Plus is distinguished by its small size. Its dimensions are 79mm x 64.5mm x 21.6mm and weigh only 64g, making it tiny enough to fit in the palm of your hand. It is simple to install anyplace in your house it can also be wall-mounted or put on a desk or shelf.
The Meter Plus has a white plastic exterior with a smooth, matte finish that looks clean and modern. It features a large, circular display on the front that shows the current temperature, humidity, and air quality levels. The display is easy to read and provides clear accurate readings.
On the back of the device, there is a durable kickstand and a small magnetic plate that allows you to place it anywhere even if you can conveniently mount it on any metal surface. Its compact size and modern aesthetic make it a great addition to any home or office.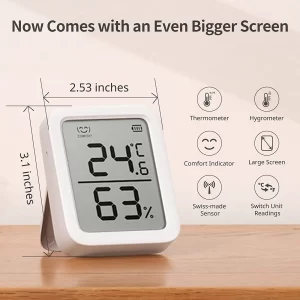 Features:
These are some of the SwitchBot Meter Plus's standout characteristics.
Accuracy: One of the standout features of the SwitchBot Meter Plus is its accuracy. The device uses advanced sensors to measure temperature, humidity, and air quality, and the readings are highly accurate. You can trust the data provided by the device, which can be important for people with allergies or respiratory issues who need to monitor the air quality in their homes.
Bigger LCD screen: SwitchBot Meter Plus has a 3-inch clear LCD screen that makes temperature data simpler and quicker to view, and with its straightforward, easy-to-read indications (dry/comfort/wet), you can keep track of interior humidity throughout the day.
Easy setup: The device is incredibly easy to set up and use. Once you have downloaded the SwitchBot app and connected the Meter Plus to your Wi-Fi network, you can start monitoring the environment in real time.
Long battery life: The Meter Plus is supported by a low-power Bluetooth chip, which means two AAA batteries may last up to a year under realistic conditions.
Operate multiple meter simultaneously: You can use the SwitchBot app to connect multiple SwitchBot Meter Plus devices to one smartphone, which allows you to monitor and record temperature and humidity levels in various areas of your home simultaneously. This feature provides you with a comprehensive understanding of environmental conditions throughout your home or office.
Mobile app: The app is user-friendly and easy to set up. The app allows you to customize the display and set alerts for when certain thresholds are reached, such as if the temperature gets too high or the air quality drops below a certain level.
Complete track of data: The application also lets you examine 68-day curve graphs, which aid in providing a clear data track that can be exported. Even while you are away from home, you may monitor the temperature and humidity of your home.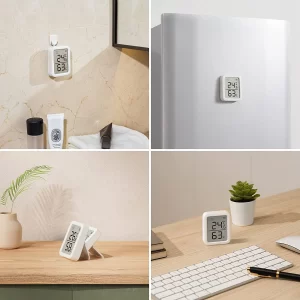 Final verdict:
Overall, the SwitchBot Meter Plus is an excellent device and is strongly recommended for anyone who wants to monitor the temperature, humidity, and air quality in their home or office. Its small size, ease of use, and accuracy make it a standout choice in the crowded market of smart home devices. While it may be more expensive than some other environmental monitoring devices, the accuracy and convenience of the SwitchBot Meter Plus make it well worth the investment.
For further details about this SwitchBot meter, see the website below.
10% coupon code: 10VIDEOGIZE, active from 24th February to 24th March.