The SwitchBot Bot is a compact, lightweight device that can be mounted to practically any button or switch in your home including light switches, coffee makers, fans, and more. It allows you to control gadgets around the house remotely via your smartphone. This distinguishes it from other smart home gadgets that rely only on wireless transmissions or infrared blasters.
The setup procedure is simple and just takes a few minutes to finish. Because of its ease of use, versatility, and compatibility with other smart home devices, it is an excellent purchase for anybody wishing to make their house smarter and more energy efficient.
This technology claims to make your life simpler by automating household gadgets, and it is unquestionably an effective solution to automate household duties. Now instead of replacing your current switch, just connect the SwitchBot Bot to it.
10% coupon code: 10UPDDAV1DZDOD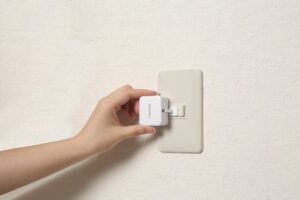 How does it work?
SwitchBot Bot has a small, extending arm that bursts out of the center of one side before resuming its position inside the unit. Because the arm can only extend a few millimeters, it can only flick a rocker-style light switch and not a more typical toggle switch.
Design and features of SwitchBot Bot:
Let's have a look on some remarkable features of the SwitchBot Bot.
compact design: The SwitchBot is compact and lightweight, measuring only 3cm x 3cm x 1.5cm. The size is comparable to that of a travel case for a pair of wireless earphones and will not take up much room around the house.
Modern and minimalistic: The Sw
itchBot's design is noteworthy. It's modern and sleek and because it's compact, it doesn't take up much space.
Easy installation: The gadget is also quite simple to install and uninstall. It literally takes seconds for installation. It is a fantastic option for renters who do not want to make permanent alterations to their houses. No tools are necessary, simply tape your Bot to any button or switch. Making your gadgets smarter has never been easier.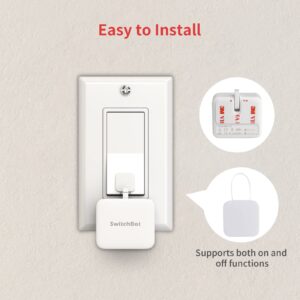 Long battery life: It is operated by a 3-volt CR2 battery, which the company claims will last about 2 years or you can say 600 days depending on usage. The app also shows the remaining battery life so you know when it's time to replace it.
Voice assistant: Another remarkable feature of the SwitchBot is its connectivity with voice assistants such as Alexa and Google Assistant. This allows you to use your voice to manage your gadgets, making them even handier to use.
Easy switch on and switch off: You can turn the switch on both sides, "on" and "off".  All you need is the included add-on in the packaging. You must attach the provided adhesive-and-string arrangement between the Bot's arm and the switch for it to push and pull. That is, you can quickly push or pull yours on/off switches with just one SwitchBot Bot!
Versatile: One of the most impressive aspects of the SwitchBot is its versatility and adaptability. It can control pretty much any button or switch, from light switches to coffee machines. You can program your devices with schedules and routines making it simple to automate tasks around the house.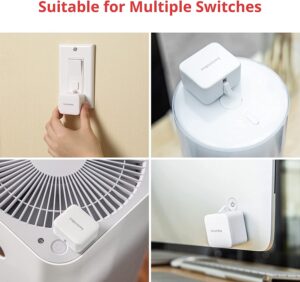 SwtichBot App: The SwitchBot Bot can easily be controlled with the SwitchBot app on your smartphone or tablet. The SwitchBot app is quite basic, allowing you to flip the switch on the go. It not only lets you manually control your devices, but it also allows you to set up automated routines, such as shutting off the lights when you leave the house or turning on the coffee maker in the morning. You may also set up device groups, which allow you to control numerous devices at once, such as all of the lights in a room.
Final verdict:
Nowadays, you can buy a smart version of almost any product, from light switches to kettles, just by replacing the old with the new. The SwitchBot Bot, on the other hand, is intended to make your dumb electronics smart. Overall, the SwitchBot is a powerful and efficient home automation tool, with a plethora of capabilities to assist you in controlling your gadgets in the most comfortable manner possible.
For more information, visit to the website.
10% coupon code: 10UPDDAV1DZDOD