The range of robot vacuum cleaners seems confusingly large and therefore it is important to look at specifics and details in order to make a decision. "AIRROBO" is a tech brand that designs and manufactures world-class tech products and accessories since 2012, which has rapidly expanded in many countries. "AIRROBO" has four main product lines, including ROBOT VACUUMS, AIR PURIFIER, HUMIDIFIER and their accessories. All of which are equipped with the latest technology and outstanding performance to enhance the user experience. With the new P20 model, they jump into the highly competitive price range.
AIRROBO Amazon Black Friday deal 2022 $99 | Robot Vacuum Cleaner AIRROBO P20
Original price of AIRROBO P20 is $199.99,
ONLY for Black Friday, which is now till 27th November;
it is sold at $99.99 on Amazon and its official website.
Lowest price in history.
Amazon: https://www.amazon.com/dp/B0B5XSRVHY?ref=myi_title_dp&th=1
Wesite: https://us.air-robo.com/products/robot-vacuum-p20
The packaging of the "AIRROBO P20" is kept compact and simple. A brown cardboard case with a plastic handle forms the exterior. Inside, the "AIRROBO P20" in a foam mold. Next to it is a cardboard box with the accessories and the charging station. All parts are also individually wrapped in a plastic foil. Two small white foam pads protect the bumper from transport damage.
"AIRROBO P20" robot vacuum cleaner provides high cleaning efficiency, easy to use and companioning aesthetics, innovation and practically.
Specifications
Suction power: Up to 2,800 Pa
Battery life: up to 2 hours
Socket dust container: 600 ml
Height: 7.8 cm
Climb height: Up to 2 cm
Control: Buttons, remote control, Airrobo app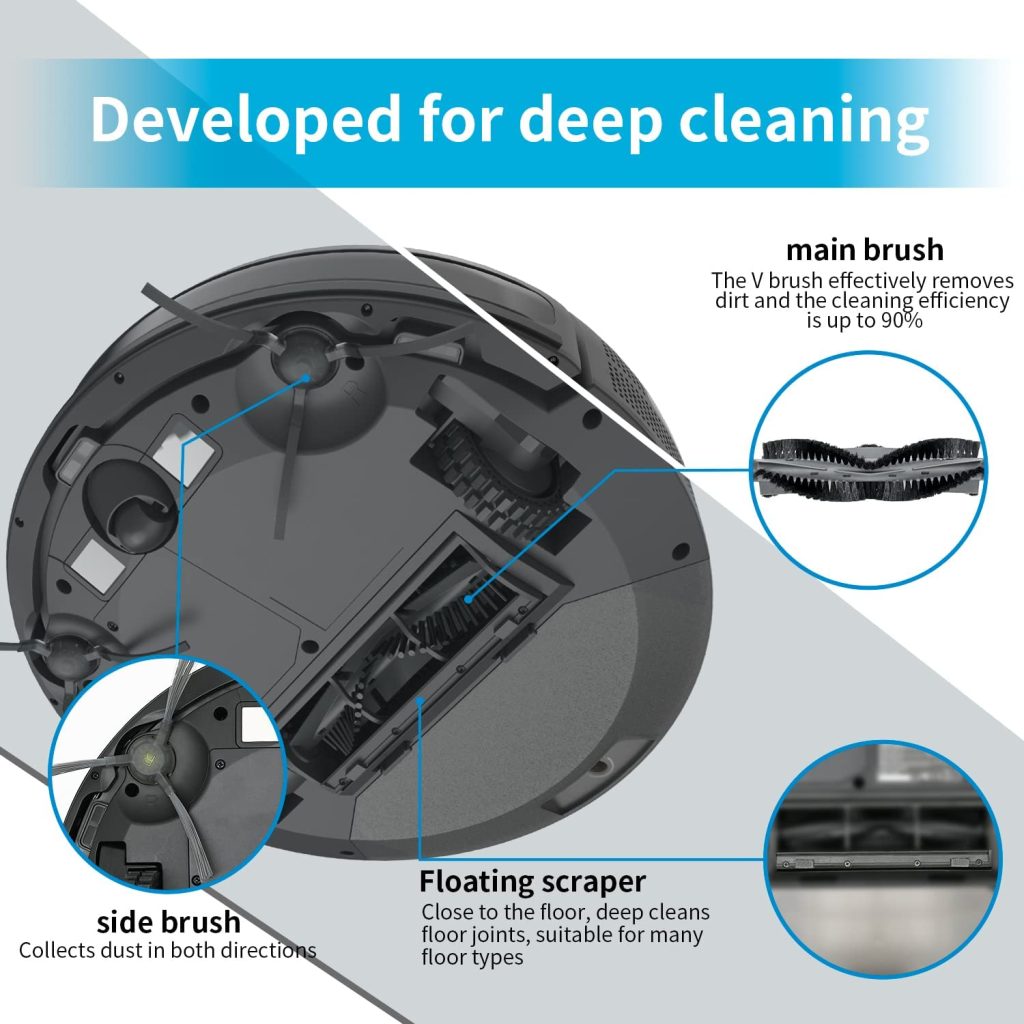 If we talk about the design of main unit, The AIRROBO P20 utilizes a round shaped form, which use for better efficiency in tight spaces since a round frame can maneuver around these areas better. The design of the top is mettle finish with triangle pattern like diamonds.  It looks amazing and makes it stand out among the robot vacuums on the market.
The "AIRROBO P20" is a very beginner-friendly robot with a decent suction power of 2800Pa with technology designed by UBTECH Robotics called Scraper Technology designed to eliminate nearly all dust from the floor. "AIRROBO P20" is unremarkable by design; it is noticeable in the specs that a motor from Nidec is installed. This is a renowned company that is also known for high-quality fans.  It can sweep, vacuum and scrape all in one go to get at even hard to reach dirt within grout lines. The feature set of the "AIRROBO P20" is that it vacuums.  It does have basic functionality such as cliff sensors, IR anti-collision sensors but there is no home video, no mopping, no 3D mapping, no exclusion zones, no area cleaning, and no saving of multi-floor maps but it will work best in large open-plan living arrangements or for room-specific cleaning. The "AIRROBO P20" sucks the debris well.  It is equipped with a floating scraper strip that allows the suction inlet to be a perfect fit for uneven floors, and its stable rolling brush housing and floor-protecting cushions collaboratively make sure they won't hurt the floors while cleaning. The air path inside of the robot is completely sealed, which solves the issues of dust spill and frequently required maintenance due to loss of suction. The 2800Pa is able to clean floors, carpet and hard floors. It just seems that it has taken a long time to do job in a random order but it's not.  It cleans one part then moves to another place for finishing, then comes back to the first place later on.   One good thing that vacuum can run for a long time almost for up to 2 hours in a single charge. It has 2800Pa of suction power with the pickup rate of 99.2%, a 600ml dustbin on board and it's fairly quiet, at 65db on its most powerful setting, and 53db on quiet mode.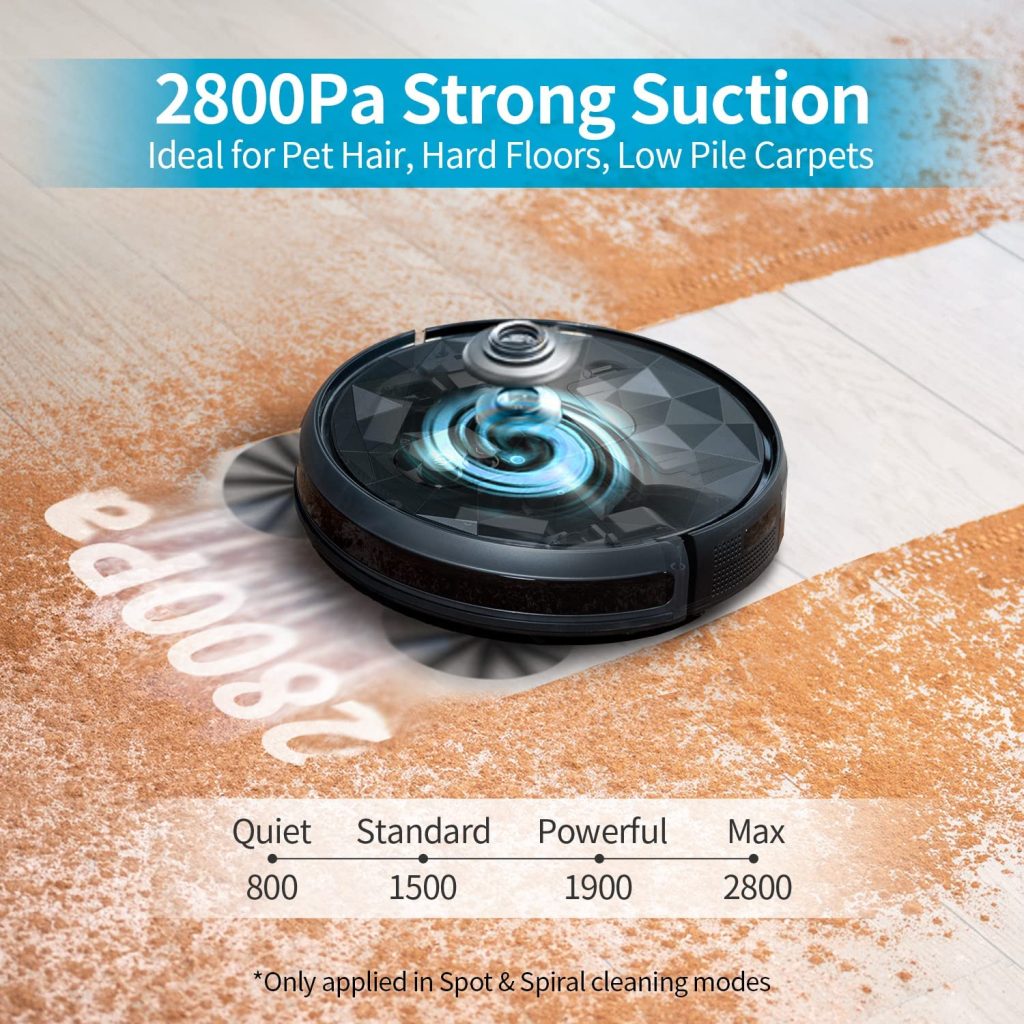 Object detection is almost nonexistent in comparison to the more advanced options. AIRROBO advertise this as having improved obstacle detection, and I'd say 50% of the time, it does seem to stop before bashing into something, but it is still very much reliant on its bumper. Like all of these vacuums, it is only ever a gentle nudge before it stops and changes direction.
With the gyroscopic navigation, it will attempt to do a logical back and forward style clean, which should be more efficient than the completely random directions some robot vacuums use.
With the remote control, the "AIRROBO P20" can be controlled without much effort. In addition to the simple functions of starting and sending back to the charging station, there are also various radio cleaning and manual control here.
With the App control, the "AIRROBO P20" can be controlled without much trouble with Smartphone App. AIRROBO's proprietary app allows smarter control over the P20.
You are three steps away from doing so:
Turn on the device.
Add the device.
Join a WI-FI network within 20 meters.
Once all is said and done, you can control P20 at any time from any place.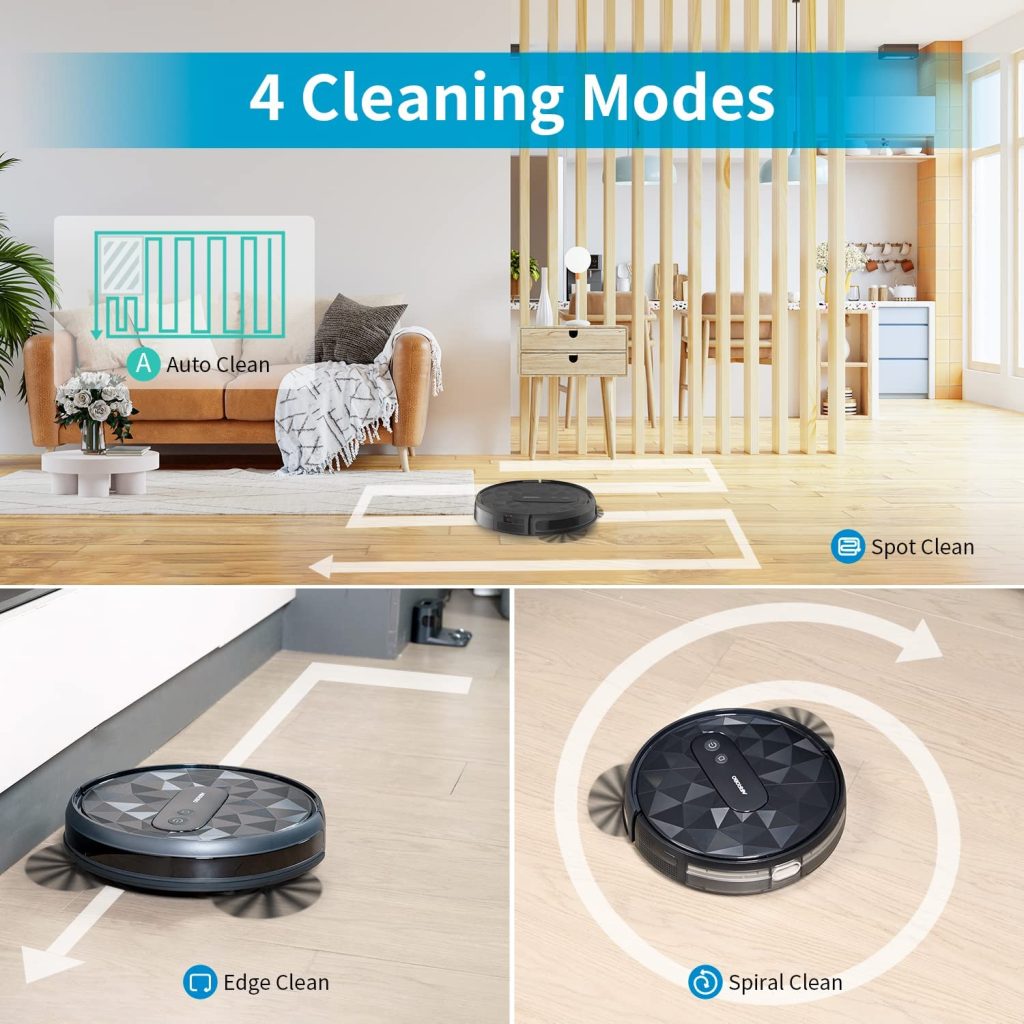 AIRROBO P20 can be controlled in four modes.
Auto cleaning
Spot cleaning
Edge cleaning
Manual cleaning
The "AIRROBO P20" can be set to three levels: Quiet, Standard and Strong. The quiet mode is actually very restrained. Standard gets noticeably louder and Strong is still a touch louder, but it's not a huge step up.
The "AIRROBO P20" Robot Vacuum is super cheap. It cleans and cleans well — if that is all you need then this may be the best robot vacuum for you.