The capacity to create comfort is the core of any house, and nothing impacts that more than the thermostat on your wall. But what if your thermostat could do more than simply keep the temperature you want? Enter the world of the Siterwell Wi-Fi Smart Thermostat, a technology that goes beyond the limits of traditional climate control.
In this review, we will explore the several features of this unique thermostat, which is meant to make your life not only comfortable but also convenient. 
Elegant Aesthetics: A Simple, Clean Design That Looks Great on Any Wall
The Siterwell WIFI smart Thermostat's sleek, clean appearance conveys a sense of simplicity. Its mirror-image symmetry gives a touch of elegance, improving the decor of your house.
Voice Control Magic: Introducing Alexa and Google Assistant
"Hi Google, make it warmer!" or "Alexa, cool down the common room." These are no longer simply desires; they are orders that you can simply carry out to alter your thermostat. It's as easy as talking to the thermostat in your house.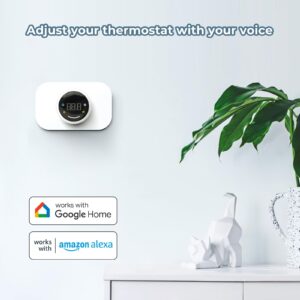 Multiple Compatibilities: Connect to Any HVAC System
This thermostat gets along with other systems as well. It can accommodate any combination of wires, including O/B, W/AUX, R, C, Y, and G. Also, both conventional HVAC systems and heat pumps are compatible with it. Just keep in mind that it doesn't come with a C-wire, so double-check your home's requirements before making the switch.
Flexibility for 7 Days: Your Temperature, Your Schedule
Say goodbye to the monotony of your everyday routine. This thermostat's 7-day flexible programming allows you to adjust your temperature settings to your specific lifestyle. It's like carrying along a personal climate expert!
protect your comfort: HVAC monitoring
Imagine having a thermostat that keeps an eye on your HVAC system. You receive a notification through the app if there is ever a problem, keeping you informed at all times. Believe me, this siterwell thermostat is the only solution to this problem.
Precision Temperature Control: Tailor Your Comfort
It's never been easier to fine-tune your comfort. This smart thermostat is outfitted with high-quality temperature sensors that enable for temperature adjustments of 0.5, 1-, 1.5s, and 2 degrees Fahrenheit.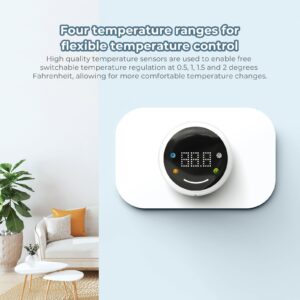 Control from any location: Your House, Your Standards
Your smartphone becomes the temperature control point for your house, no matter where you are. When you are not present, you may even turn it off remotely. Furthermore, the mobile app allows you to share control with family and guests, assuring everyone's comfort.
Simple Installation: A Do-It-Yourself Dream
Don't worry if you're not the most skilled person when it comes to house remodeling. The software of this gadget walks you through the installation procedure step by step, making it simple for anybody to complete. so, say goodbye to costly professional installs!
Final verdict: 
If you're weary of fiddling with old thermostats and want to make your life easier, this Siterwell Wi-Fi Smart Thermostat is for you. Trust me when I say that this Smart Thermostat with Voice Control is a game-changer for anyone who values peace of mind. It has it all, from voice commands to HVAC monitoring and precise temperature control, and the easy installation and compatibility with various systems which make it a top choice for all households.
So, what are you waiting for? Upgrade your home comfort today and plunge into the realm of easy temperature control!
Click on the link provided to shop this product: https://store.siterwellhome.com/products/gs368