Are you tired of dealing with pet hair all over the house? Do you want to give your pet a stylish decoration, without the burden of the many trips the groom will make? Your search is over because the APETDOLA Dog Grooming Kit and Pet Vacuum will transform your pet care routine. This all-in-one grooming and cleaning solution combines grooming and vacuuming into one small, powerful device, giving you and your beloved pet a fuss-free home salon experience.
20% off Code: WOWTECH20A
In this review, we'll look at the features and benefits of this revolutionary pet care tool to help you decide if it's perfect for you and your four-legged friend.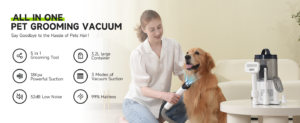 The Ultimate Cleaning and Grooming Combination
Gone are the days of cleaning up pet hair after grooming. The APETDOLA pet vacuum has an impressive 18Kpa capacity and will leave no hair. It collects 99% of pet hair, preventing a fur disaster in your home. Whether you prefer gentle grooming or meticulous grooming, this device have settings designed specifically for you, providing a stress-free experience for your pet
Pet Pampering in Peace
Consider a peaceful grooming session with your pet, devoid of loud noises and worry. The APETDOLA pet vacuum produces just 52dB of noise, making it quieter than the ordinary vacuum cleaner. Even the most sensitive pets might develop acclimated to it over time. Furthermore, the built-in 3-layer filtration technology efficiently catches microscopic airborne contaminants such as pet dander and dust, providing healthier air for everyone in your house.
Large Capacity and Simple Maintenance
The dog grooming vacuum's 0.84-gallon dust cup allows you to groom many dogs at the same time without the need for regular cleaning. Pet hair is effectively compacted, boosting capacity, thanks to its wind recirculation technology. With its one-button design, disassembling is a snap, and the included organizer stand and storage bag guarantee that every tool has a home, dramatically enhancing grooming efficiency.
Suction Customized for a Stress-Free Experience
APETDOLA's dog hair vacuum groomer has three variable suction speeds to make your beloved friend's at-home grooming experience stress-free. This allows you to ease your pet into the procedure by beginning with a relaxing brush session, providing treats, and utilizing the lowest gear to prevent producing any strain.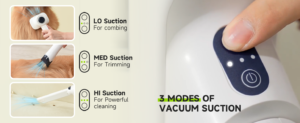 No more flying hair.
The APETDOLA pet vacuum groomer simplifies grooming by integrating it with vacuuming in a single powerful gadget. Say goodbye to the mess since it assures that no hair is left for you to clean. This pet grooming kit allows you to have a mess-free home salon experience while providing your pet with the attention they need from the comfort of your own home.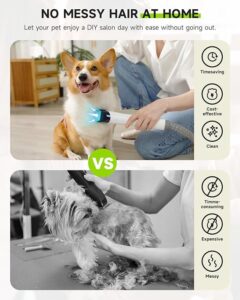 Final Verdict: A Must-Have for Pet Owners
Finally, APETDOLA's Dog Grooming Kit with Pet Vacuum is a game changer for pet owners who want to clean their home and give their beloved pet a high-quality grooming. It is a flexible tool that can meet the requirements of pets due to its rugged nature, quiet operation, high capacity and configurability. Say goodbye to arduous grooming journeys and endless struggles with pet hair. The all-in-one APETDOLA solution will make your life easier and your pet happier. Your pet deserves the best, and this vacuum groomer delivers that.
20% off Code: WOWTECH20A