Product Link: https://www.beasenhome.com     |     Discount code: WowT10 – Special 10% off
Have you ever found yourself struggling to sleep because of pesky streetlights or the early morning sun streaming through your windows? Or maybe you just want some privacy and don't want your neighbors peering in while you're relaxing in your home. Well, have no fear, because smart roller shades are here to save the day.
Rolling shades are one of the most popular shading products out there! And if you're looking for a motorized window shades, you should definitely check out Beasen's smart motorized roller shades.
These shades are a fantastic solution for anyone who wants to add some privacy, light control, and style to their home. And when it comes to 100% blackout shades, you can't go wrong with the linen fabric option. Not only does it look chic and modern, but it also blocks out all light, making it the perfect addition to any bedroom, home theater, or media room.
What's so cool about these shades?
They come with an integrated battery that you can recharge via USB-C. And that means they're not only safe but also super convenient. And the best part? You don't need to hire a professional to install them – you can do it all yourself! And once they're up, you can control and automate them with your smartphone, smart speakers, or remote. That means no more fiddling around with cords or struggling to reach those high windows.
Some remarkable features:
Here are some of the features that make these roller shades stand out:
Customizable Sizes:
Beasen motorized roller shades can be made-to-measure to fit perfectly on your windows. You can customize the right size and type of window treatment that matches your home décor and style. Turn your new house into a home with the perfect shades for your windows.
Comes with different fabric options:
Beasen's smart motorized roller shades come in a variety of fabric options to suit your style and preferences. Some of the fabric options available include linen white, linen stone, and linen caramel. Each fabric option is carefully selected to offer a balance of functionality and aesthetic appeal. Whether you prefer a light and airy feel or a cozy and warm atmosphere, Beasen's smart motorized roller shades have a fabric option to suit your needs.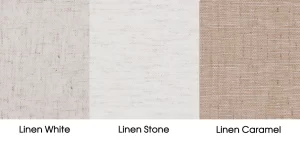 One touch Control with App:
Prefer to use your smartphone to control your shades? Beasen's app makes it easy to control your shades with only one touch. No more fumbling with cords or struggling to reach those high. And also, if you're feeling particularly fancy, you can even set them to automatically adjust based on the time of day or your personal preferences.
Voice Control option available:
One of the best things about Beasen smart motorized roller shades is that you can control them even with voice commands. Simply use your Amazon Alexa, Google Assistant, Apple HomeKit, or other smart speakers to control your shades without having to get up from your seat.
Multi-Channel Remote Control
Beasen's smart roller shades come with a multi-channel remote that can control up to 15 blinds separately. And if you want to control all your connected shades at once, just select the "0" channel.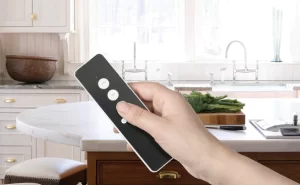 Extra Safe for Your Children
Beasen uses a quiet motor that lifts your shades automatically without the need for cords or chains. With this, you won't have to worry about your kids playing with the cords and getting entangled.
With these features, Beasen's smart motorized roller shades are the perfect way to upgrade your home and make your life a little easier!
How to install Beasen's smart motorized roller shades?
Installing Beasen's smart motorized roller shades is a straightforward process.
Start by positioning the first bracket in the top corner of the window frame, followed by the second bracket in the opposite corner. Ensure both brackets are level and evenly positioned, and use drywall anchors if needed. Next, create pilot holes and attach the brackets by screwing them in place. Finally, mount the shades by sliding the headrail into the brackets and positioning it with the front panel resting on the top lip of the brackets. Push the bottom front of the headrail firmly towards the window until it snaps into place.
With these simple steps, your Beasen smart roller shades will be ready to use in no time.
Final verdict:
Beasen's smart roller shades appear to be a great addition to any home or business space. With their USB-C rechargeable, motorized design and compatibility with popular voice assistants, controlling your shades has never been easier or more convenient. Additionally, the child-safe features and ability to customize the size of your shades make Beasen's product a smart and practical choice. Overall, if you have standard windows and are looking for an easy-to-use and customizable shading solution, Beasen's smart roller shades are worth considering.
Product Link: https://www.beasenhome.com     |     Discount code: WowT10 – Special 10% off